Christmas Gift of a Lifetime!!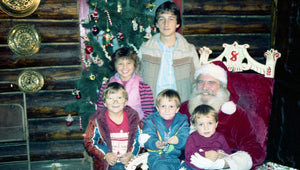 Here we are, once again staring down another Christmas Season. Copious amounts of food, indigestion, and ugly sweater parties with friends & relatives we may or may not be excited to see. Then there's the never changing question that wakes you up in a cold sweat, "What am I going to get for ____?! They are impossible to shop for!!"
Legacy Media has come to the rescue!! Let's face it, every one of us has that random box of "Junk" that is really priceless "Junk", we just have no idea what the heck to do with it! You know who else has a box of "Priceless Junk"?
That impossible to shop for person in your life! Or better yet, maybe you even have possession of their priceless junk! I am going to use my telepathy powers to determine exactly what is in your ancient cardboard box… Photos, Slides, Negatives, 8mm Film, 16mm Film, VHS, and a few other bizarre formats of media from 100 years ago. How's that for psychic powers!?
You may have forgotten but there is a reason you have moved that box with you across the country twice, house to house, from one safe hiding place to another. It's your past, your history, your family, your Legacy! The reason why we classify it in the "Junk" category is because we don't know what to do with it anymore!
Media formats have changed more times than any of us can count. At one point during one of those bizarre Betamax/VHS/DVD transitions you said to yourself, "I'm done!" and away the box went. Into the back of our conscious mind and into the back of our physical closet.
The time for rejoicing is here my fellow Legacy Junkers! We are living in a digital era!
With that comes the fact that you can get your Legacy Junk into a "future proof" format! We can transfer your entire box into wonderful user friendly Flash Drives, DVDs, Blu-Rays, whatever you prefer! Imagine your loved one's elation when you hand them a single flash drive or small stack of DVDs that contain the entire contents of their box(their whole life in photos & video).
You will forever be heralded as the hero who transformed their "Priceless Junk" box back into Priceless Memories.
Call, email, or visit Legacy Media to become a Christmas hero this year!